The Shakespeare Project
Project Overview
The Shakespeare Project is located in the area of the historic Shakespeare Gold Mine, 88 km west of Sudbury, Ontario. Current exploration programs include drilling for high-grade gold near surface and across an identified gold bearing horizon of over 6 kilometres.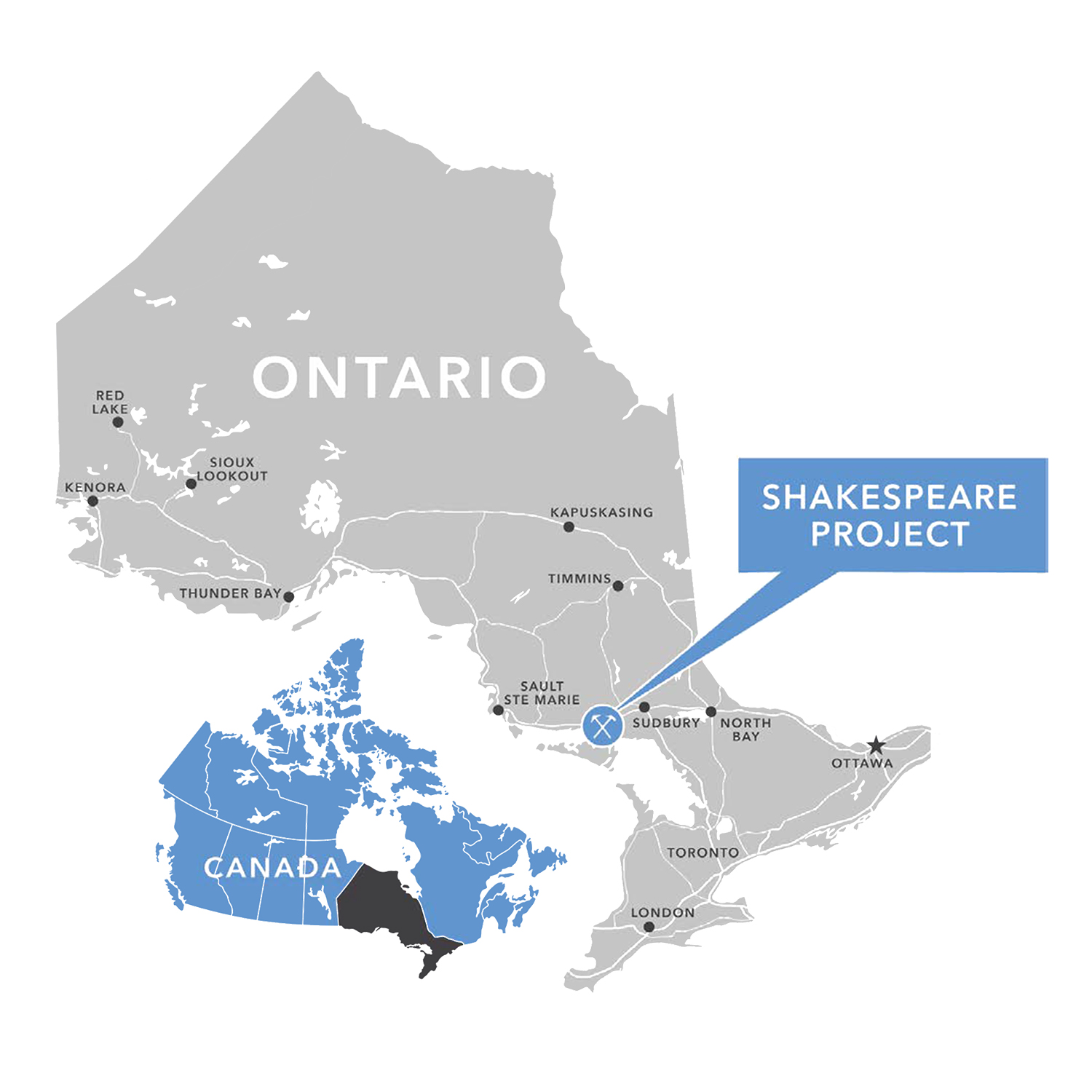 LOCATION
Excellent Infrastructure
Just off the Trans-Canada Highway
Power right to site
Educated workforce
Shakespeare Mine was in operation from 1903-1907
Historic exploration included trenching, sampling and limited drilling
2,959 oz of Au were produced from six underground areas
Well-known geology on the prolific Canadian Shield
Project is located at the contact between the Archean, Southern and Superior geological provinces.
HIGH-GRADE GOLD
Exploring for high grades in the shadow of a historical head frame
Phase One: Q4 2020 (Completed)
7 core holes drilled (~1300 m): anomalous gold in 5 holds, including J-7-20 with 5.5 m of 8.59 g/t Au and J-3-20 with 5.0 m of 5.37 g/t Au.
Phase Two: Q1 2021 (Completed)
14 core holes drilled (~2000 m): mineralized zone extended to 115 m, highlighted by high-grade holes J-8-21 with 16 m of 16.37 g/t Au and J-9-21 with 16 m of 13.32 g/t Au & 4 m of 52 g/t Au.
Phase Three: Q2 – Q4 2021 (Completed)
~7,000 metres drilled in three phases to date, significantly expanding the existing mineralized zone surrounding the Miller Shaft by ~150 m at depth and 120 m along strike.
Phase 4: Q1-Q4 2022 (Completed)
16 holes drilled (~4,550 m) with multiple high-grade, significant-width gold intersections reported including:
J-49: 6.0 m of 10.09 g/t Au at depth of 195 m, incl. 1.0 m of 23.80 g/tAu,1.0 m of 15.40 g/t Au, and 1.0 m of 12.70 g/t Au
J-52: 3.0 m of 14.39 g/t Au at a depth of 178 m, incl. 1.0 m of 41.00 g/t Au
J-53: 5.0 m of 5.35 g/t Au at a depth of 185 m, incl. 1.0 m of 21.40 g/t Au
Visible gold identified in multiple holes.
Multiple areas of mineralization identified in the system, width and breadth of the mineralized zone expanded.
Continuous updating of 3D modelling with new data. Airborne geophysics identified new drill targets: Graycliff will follow up with ground geophysics, field sampling and drilling to test the geology of the numerous anomalies.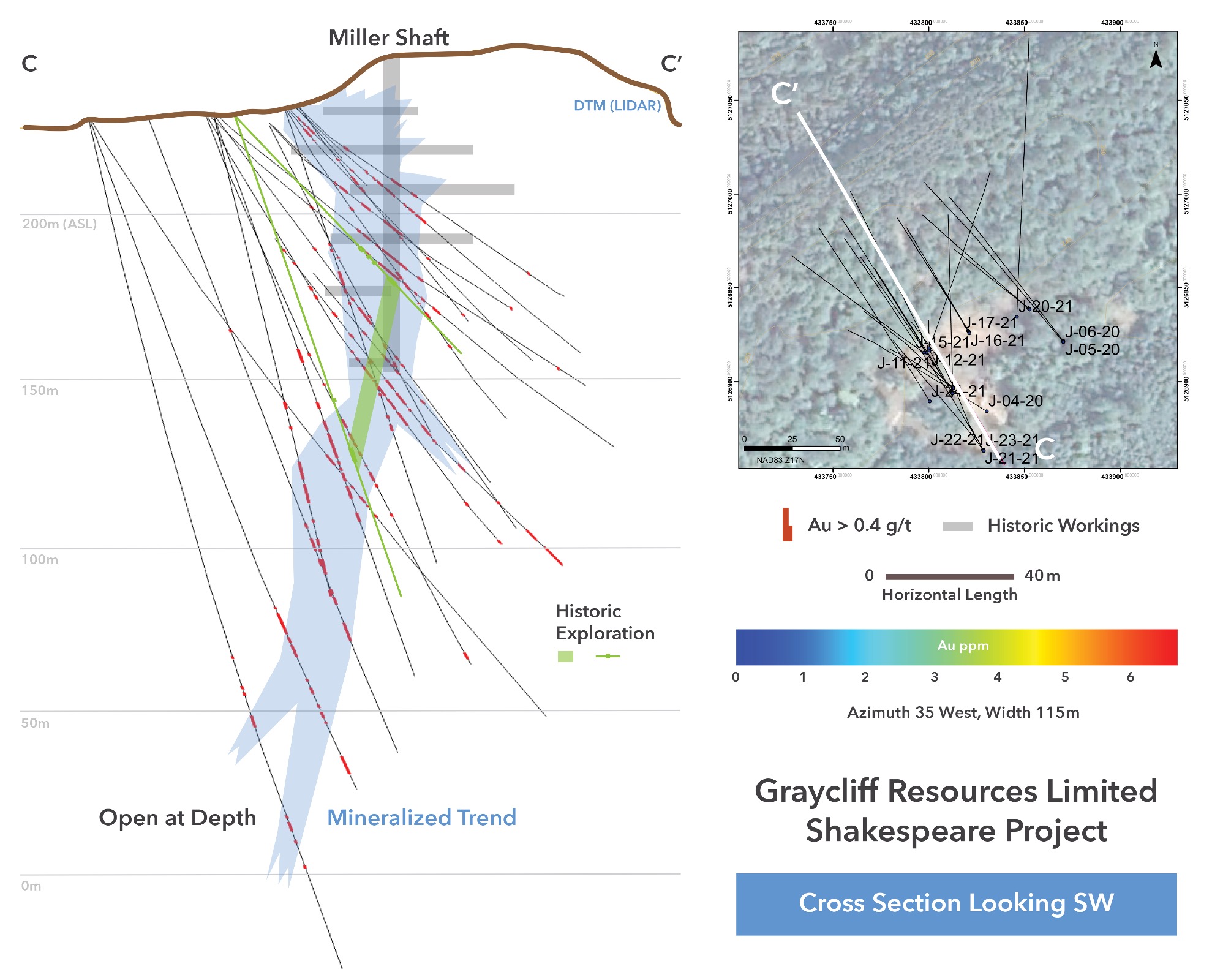 GEOLOGY
Our team reviewed numerous historical reports and initiated our exploration and drilling program in Q3 2020.
Potential for Significant Mineralization
Major northeast trending faults cross through the area.
A series of quartz veins and stock works of quartz veins containing sulphides identified on the property.
Quartz veins identified a considerable distance to then northeast of the former mine site, suggesting a regional structure.
Potential for other gold discoveries along the prospective Shakespeare gold-bearing horizon of over 6 km.